History Talk
Wednesday – 7:30 – Llandudno Junction – Community Club
Find out about the history of the Great Orme cemetery and some of the fascinating people that are buried there. These include Cecil Parke, an Irish born Olympian and Wimbledon champion; Bert Lee, a world-renowned songwriter; motoring pioneers, Sir William Letts and Beatrice Blore Browne; war heroes from both World Wars; Hynek Zalodek, the Bohemian bigamist and local people killed in very tragic circumstances!
Tickets only £2
——————————————————————————————————————————————————————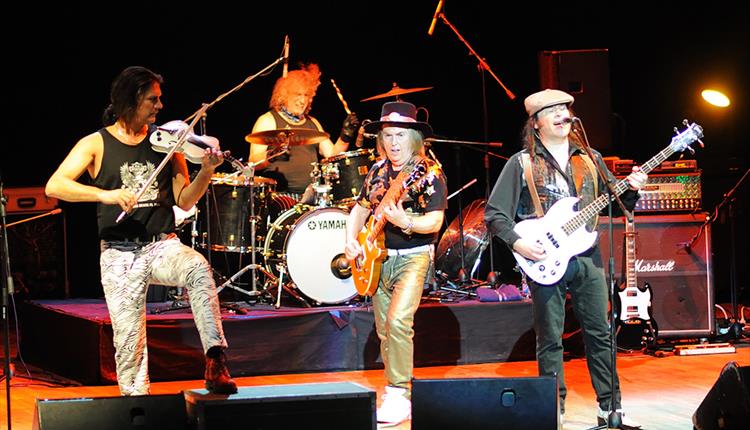 Zip World Rocks
Saturday – 7:30 ( – 9:30 registration )  – 11pm – Bethesda
Join us for an unforgettable day! Start the morning off with a hike in snowdonia, then rock the night away at Zip World Rocks – and it's all for charity!
Zip World Rocks is an evening of quality music and entertainment curated by Mike Peters of the Alarm, presented with the impressive backdrop of Penrhyn Quarry.
Lineup:
Penrhyn Choir
The Storyville Mob
Mike Peters from The Alarm
The Third Generation
Band Pres Llareggub Brass Band
Maffia Mr Huws
and the headliner is…
SLADE
You're in for a treat! With live music, excellent company and great food and drink, you don't want to miss this.
Zip World Rocks evening of music:
Standard Tickets
£15 for 18+,
£5 for under 18s.
VIP packages
£50 for 18+,
£20 for under 18s
It will follow the Snowdonia Rocks walk on the 23rd of June (additional tickets must be purchased).
Proceeds of Snowdonia Rocks and Zip World Rocks will support Love Hope Strength's three grant schemes, helping some of the most vulnerable families in underdeveloped countries:
Get On The List programme
Equipment and new facilities in UK hospitals
Support for cancer services across the globe
🚌 Park & Ride Information 🚌
16:00-18:00 Bethesda > Zip World Rocks > Bethesda
20:00-22:00 Bethesda > Zip World Rocks > Bethesda
23:15-00:30 Bethesda > Zip World Rocks > Bethesda
Zip World Penrhyn Quarry, Bethesda, Gwynedd, LL57 4YG
To find out more go to :  https://www.zipworld.co.uk/rocks2018utm_source=Facebook&utm_medium=Social&utm_campaign=ZWRocks%20Fb%20Post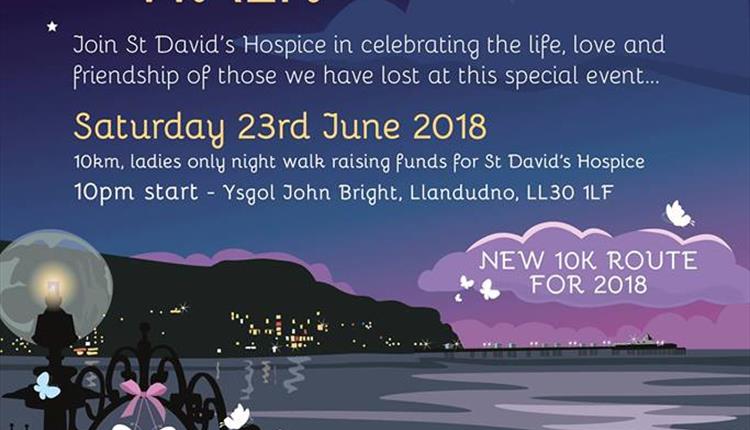 Moonlight Memories Walk 2018
Saturday – 10pm – Llandudno
St David's Hospice is delighted to announce the Moonlight Memories Walk 2018.
Join us in celebrating the life, love and friendship of those we have lost at this special event.
The 10k walk will begin at Ysgol John Bright, Llandudno, from there we will walk together towards Craig-y-Don, into Penrhyn-side and along the prom under starlight.
The Hospice itself will be a stop off point where you be guided through the lit up memories garden to leave a special message to your loved ones. There will also be refreshments available and served by our lovely volunteers!
The walk will then continue back towards Ysgol John Bright where you will be greeted with a medal and goody bag.
The Moonlight Memories Walk is not about getting a personal best or being athletically fit. In fact, the Hospice is welcoming ladies of all abilities to come together for this special evening.
All monies raised will support the invaluable care provided by St David's Hospice, to patients with advanced illnesses in Conwy, Gwynedd and Anglesey.
 Prices £15
Ysgol John Bright, Maesdu Road, Llandudno, Conwy, LL30 1LF
The Movable Feast
Saturday – 12 – 10pm – Criccieth
Food Slam – Live Music. Showcasing the best of the North Wales vibrant food and drink community. Burgers, pizza, cocktails, beer, cider and more.
Live Music, Craft Fayre and Childrens' activities
The musical entertainment lineup is still growing, but so far we have the following wonderful artists joining us in Criccieth, on June 23rd!
The Wee Bag Band
Sam Jones – Singer/Songwriter
Gwilym Bowen Rhys
ap Cooper
Suspects
Wil Williams and the Continentals
Join us for a great day in Criccieth, filled with the best food, drink, arts, crafts, music, and entertainment North West Wales has to offer!
Ymunwch â ni am diwrnod yng Nghricieth llawn bwyd, diod, celf, chrefft, cerddoriaeth, ac adloniant gorau sydd gan Gogledd Cymru i gynnig!
The Esplanade, Criccieth, Gwynedd, LL52 0HW

Lost in Space – Retro Indie DJ Night – Travel back in time…
Friday  – 8pm – Llandudno
Doors OPEN from 7pm
LIVE DJ FROM 8PM
TICKETS £10
Featuring: Andy Campbell:
Electronica + BritPop + Madchester + New Wave + Indie
Stone Roses, Pulp, Pixies, Prodigy, Oasis, Clash, Cure, Smiths, Bowie, Blondie, Arctic Monkeys, Libertines, Prodigy, Fatboy Slim, Moby, New Order… and much more
GROUPS WELCOME BOOK AHEAD FOR TICKETS
——————————————————————————————————————————————————————

Walk with the Head
Gardener
Wednesday 10 – 12 – Walk with the Head Gardener
Enjoy a stroll in the garden with Head Gardener John Rippin and learn more about the latest garden developments.
Cost £15. Booking required.on 01492 650460.
Add on a 2 course lunch for £10pp in the Pavilion tearoom.
Deposit £5pp, booking essential, call 01492 650460
——————————————————————————————————————————————————————
Summer Fete
Saturday – 2- 4 Abergele
Abergele Hospital League of Friends have their annual summer fete – stalls, exhibitors, entertainment and refreshments.
---

Concert
Friday – 7:30 – Deganwy
Cor Miebion Maelgwyn ( with soloists ) at All Saints Church in aid of the National Eisteddfod to be held in Llanrwst in 2019
Tickets £7 – 01492 583420
_____________________________________________________________________________________________
Live Music
Friday – 6pm – Prestatyn
---
Open Gardens
Sunday – noon – 5pm – Craig-Y- Don
Maps can be obtained from St. David's Church, Mostyn St, Craig-y-Don – £5pp including tea or coffee – also plant sale if you'd just like to come for a drink and a chat ( £2 ) – all welcome
—————————————————————————————————————————————————————–
 Living History Evening – Robin's Redemption
Thursday and Friday  -6:30 – 7:30 and  8 – 9  – Conwy Castle
A loyal, wealthy member of the community has passed away. The recently
deceased has sent each of you odd clues, letters and objects, and it's up to you to solve the puzzle.
Come along to the castle after hours and be part of our one-off living history shows.
From 6.30pm to 7.30pm and 8pm to 9pm.
Conwy Castle – Conwy. Entry charges apply. Phone: 01492 592358.
Web: www.cadw.gov.wales/ –
___________________________________________________________________________________________
Gin and Prosecco Festival
Saturday -2 – 9pm  Surf Snowdonia – Dolgarrog
Join us as we combine our two favourite drinks into a one day celebration at Surf Snowdonia's first ever Gin and Prosecco Festival.
What time does it all kick off?
Gates open at 2pm and the event finishes at 9pm.
Do I need my ticket?
Yes! Please bring your ticket either on your phone or printed out.
Do I need ID?
Definitely. Your ID will be checked upon entry and wristbands will be given to over 18s.
For more info go to https://www.facebook.com/events/165035984330849/
——————————————————————————————————————————————————————

______________________________________________________________________________________________
The Lord Chamberlain's Men present The Tempest
Saturday  and Sunday  – Conwy Castle
This summer, for the 14th year running, The Lord Chamberlain's Men, return to the spectacular
Conwy Castle with Shakespeare's spellbinding masterpiece The Tempest – a play of soaring poetry,
high comedy and tender love.
23 June at 7.30pm and 24 June at 6.30pm.
Tickets from Venue Cymru.
Phone: 01492 872000. Web: www.venuecymru.co.uk
—————————————————————————————————————————————–

Great, Great Orme Butterflies
Sunday -Great Orme – Llandudno
Come and join the Country Park Warden and members
of North Wales Wildlife Trust, in search of butterflies (including the Great Orme's silver studded
blue) and other wildlife. A strenuous 3 mile walk with very rough and steep terrain. This event will be
delivered in English only. Meet at West Shore Toll House.
 Bring lunch! Booking essential.
http://www.northwaleswildlifetrust.org.uk/events/2018/06/24/great-great-orme-butterflies?instance=0
——————————————————————————————————————————————————————

Tesni Jones – Little Big Voice
Saturday – 7:30 – Theatr Colwyn – Colwyn Bay
This is going to be a night NOT to miss – the incredibly talented Tesno Jones will be joined by the amazing Gruffydd Wyn as well as children from Powerplay.
For one night only – tickets only £10!!
Theatr Colwyn – Abergele Road, Colwyn Bay. Phone: 01492 577888/872000. Web:
www.theatrcolwyn.co.uk
__________________________________________________________________________________________
History Walk
Thursday – 6pm – Penmaenmawr
Visit the Pen quarry – tickets from the Pen museum
Tickets only £10 – refreshments after visit.
——————————————————————————————————————————————————————

______________________________________________________________________________________________

Armed Forces Charity Football Event
Saturday – 11 -onwards  – Llandudno
Come along and support the Royal Welsh past
and present v Army Veterans; Llandudno v Army and Llandudno ladies v Army ladies at a charity
football event raising money for Blind Veterans UK and Help for Heroes. With bar refreshments;
family fun day; DJ; bouncy castle; face painting; tombola and raffle. At Llandudno Football Club,
Builder Street, Llandudno with doors open 11am and first kick off at 11.30am. Admission £1.
---

Meet The Household
Saturday and Sunday – 11 – 4 – Plas Mawr, Conwy
Come and meet the Household to learn more about their
lives. Have a go at crafting marchpane or tussie-mussies, and join in the dancing and games. At
Plas Mawr, High Street, Conwy from 11am to 4pm. Entry charges apply.
Phone: 01492 580167.
Web: www.cadw.gov.wales/
————————————————————————————————————————————————————-

Monthly Comedy Night with Malaysian Street Food Kitchen
Saturday – 7 pm – Llandudno
FOOD MENU AVAILABLE FROM 7PM – 9PM
SEATED FOR COMEDY FROM 8PM TICKETS £10
GROUPS WELCOME – BOOK AHEAD FOR COMEDY TICKETS
Join your MC Cokey Falkow for a rip-roaring night of comedy at the brewery featuring:
Al Lubel
AS SEEN ON THE LATE SHOW ITHE DAVID LETTERMAN &
THE TONIGHT SHOW WITH JAY LENO
—————————————————————————————————————————————————————–
Regular and Repeated Events
Classic Movie Club
1st and 3rd Friday of each month – Llanrhos Old School – Refreshments from 2pm – moveis start at 2:30
All free
Call Julie on 07860232641 for more info
---
Every Monday – CrafTeaNooners Craft Fair – Held every Monday afternoon with local hand
crafted cards, a variety of beautiful local hand crafted gifts and craft demonstrations. Refreshments
available. Everyone welcome. At St John's Methodist Church Hall, Mostyn Street, Llandudno from
1.30pm to 4.30pm. Phone: 07730 499858
---
Every Monday until 10 September – Harmony Singers – Monday Night is Music Night –
The Harmony Singers are a local choir who perform every Monday night from 28 May until 10
September. The choir perform varied music, something for everyone. All proceeds are donated to
local and national charities. At St John's Methodist Church, Mostyn Street, Llandudno from 8pm to
10pm (Doors open 7.30pm). Tickets: adult £7, child £3. Phone: 07912 292230. Web:
www.harmonysingers.co.uk
---
Every Tuesday in June – Llanddulas Male Voice Choir Concerts – The ever popular,
internationally famous Llanddulas Male Voice Choir will perform concerts with both piano and harp
accompaniment. At Gloddaeth United Church, Chapel Street, Llandudno from 8pm. Tickets: £5.
Phone: 01745 823791. Web: www.llanddulaschoir.co.uk
---
Every Tuesday and Thursday – Male Voice Choir Concerts – Until 18 October. Enjoy the
wonderful sound of Wales in the beautiful atmosphere of St John's. Singing in both Welsh and
English. At St John's Methodist Church, Mostyn Street, Llandudno from 8pm. Tickets: £7 (£1
discount for Conwy card holders). Phone: 01492 860439. Web: www.stjohnsllandudno.org/
---
Every Thursday in June – Antique, Collectors and Vintage Fair – A very popular Antique and
Collectors Fair in the Snowdonia National Park. We have on sale a wide variety of goods with
prices to suit everybody. At St Mary's Church Hall, Holyhead Road, Betws-y-Coed from
9am to 4pm. Admission: adult 50p, children under 16 free. Phone: 01492 518597. Web:
www.simplythebestantiquefairs.co.uk/
---
Every Friday until 21 December – Rhos-on-Sea Country Market – With home baked bread, cakes,
preserves, fresh eggs, plants, many handcrafted cards and gifts. Refreshments available, everyone
welcome. At the the United Reformed Church, Colwyn Avenue, Rhos-on-Sea from 10am to 12pm. Phone:
01492 544920
---
HighVoltage Jam Sessions
Skerries Inn, Bangor, North Wales
• 3rd Sunday of every month
• 7pm – 9pm
Our Jam Sessions are informal, supportive and friendly. We encourage anyone to join in and have a go at playing anything. It doesn't matter if you are an experienced musician, or a beginner. It doesn't matter what you play. It doesn't matter what your favourite genre is or even if you have never had a go before.
Music is for everyone!
If you are not ready to play in front of people yet, or you don't play anything, come down anyway; talk to other musicians and enjoy some great music!
We will have a range of instruments with us, or you are welcome to bring your own to plug in and use some of the mighty Bryce Amps.
#LiveMusicNWales #NorthWalesPromotions
Art Exhibitions
MOSTYN – Llandudno
Until 1 July – Shezad Dawood – Leviathan – Leviathan is an episodic narrative around
notions of borders, mental health and marine welfare – issues of foremost concern and which
resonate profoundly with coastal locations and present day life. Mike Perry – Land / Sea – Mike
Perry's work engages with significant and pressing environmental issues, in particular the tension
between human activity and interventions in the natural environment, and the fragility of the planet's
ecosystems.
Royal Cambrian Academy – Conwy
Until 30 June – Exhibitions: A Passion for
Wales; Dafydd Lloyd Griffiths RCA and Mary Lloyd Jones RCA. The Royal Cambrian Academy
of Art is a charity whose aim is to create enjoyment of visual art through a lively exhibition and
education programme.
Royal Cambrian Academy – Crown Lane, Conwy. Open Tuesday to Saturday from 11am to 5pm.
Phone: 01492 593413. Web: www.rcaconwy.org 
Bay Gallery – Colwyn Bay 
An exhibition by popular local artist Tommy Baker – from June 9 – 29 –
Free entry – open Saturday – Monday inclusive
Phone 07909893254 for more info
———————————————————————————————————————————————————————-