History Talk – The Ffestiniog Railway and its Influence on the Slate Industry
Thursday – 7pm – Deganwy
Deganwy History Group The Group's next meeting is entitled "The Ffestiniog Railway and its Influence on the Slate Industry" and our guest speaker will be Chris Jones of Suffolk.
The meeting will be held on Thursday 17th May at 7pm, at Peniel Chapel Schoolroom, Ty Mawr Road, Deganwy.
There will be a charge of £2.
Peniel Chapel, Ty Mawr Road, DEGANWY, Conwy
For more info go to :
---
Friday – Sunday – Trefriw
A great selection of walks over 3 days, ranging from easy strolls to more challenging routes which celebrate the wonderful scenery, wildlife and history of this part of Snowdonia.
---
Charity Fashion Show
Saturday – 8 – 12pm  -Llandudno
Chess Fashions bring you this evening of fun,fashion and dancing – at the beautiful Llandudno Bay Hotel
Tickets only £6
Raising money for  the Aberconwy Phab Club
---
Saturday  – Llandudno
Small, friendly Antique and Collectors Fair in LLandudno Town Hall. On sale a wide variety of items, collectables, jewellery (both fine and costume), glass, paintings and prints, postcards, books, vintage fashion, linen, records and other weird and wonderful items. With prices to suit everybody.
The Town Hall, Lloyd Street, Llandudno.
---
Concert and Afternoon Tea –
A Musical Portrait of Llandudno
Sunday – 3 – 5 – Llandudno  – at the Tabernacle
Ailie Robertson presents
'A musical portrait of Llandudno'
FREE Concert
and afternoon tea
Following her residency in Llandudno in November 2017, award-winning composer Ailie Robertson has written a selection of new music for local performers that captures the spirit of the town and the people who inhabit it.
Join us for a musically filled afternoon with the following musicians and singers.
• Ensemble Cymru
• Llandudno Swing Band
• Helen Wyn Pari and Mariel Havard Griffiths
• Kana Choir
Light refreshments and afternoon tea will be served following the concert.
Join us for a lovely afternoon of A Musical Portrait of Llandudno!
Tabernacle Chapel, Upper Mostyn Street, Llandudno, Conwy, LL30 2HB
---

Talk and Walk – Birds of Estuary, Heathland and Coast
Sunday – 10 – 4:30 – Llandudno
Discover waders and wildfowl of
the estuary and lagoons at RSPB Conwy with the warden, before moving on for a guided walk with
a Great Orme warden around the heathland and spectacular sea bird cliffs of the Great Orme.
From 10am to approximately 4.30pm.
Booking essential. Charges apply.
---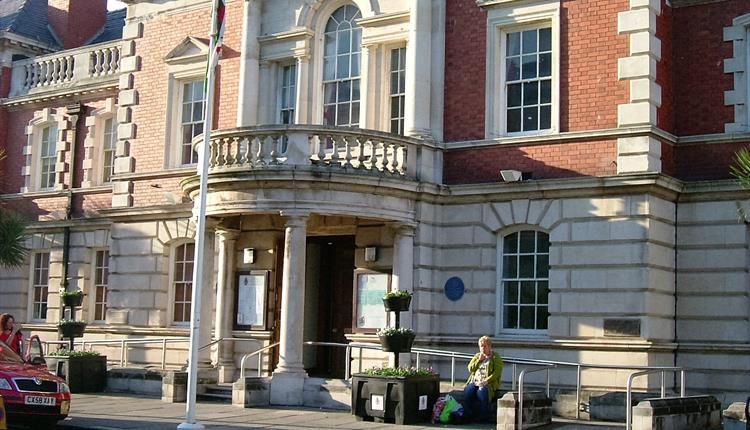 Antique, Collectors and Vintage Fair
Small, friendly Antique and Collectors Fair in LLandudno Town Hall, selling a wide variety of goods with prices to suit everybody. China, glass, jewellery (both costume and fine) books, paintings and prints, silver, small pieces of furniture, vintage fashion etc. No dateline but preferably no new goods on sale.
The Fair is in the centre of the Victorian seaside Town of LLandudno on the North Wales coast, close to all shops, restaurants and cafes. Stalls, for two 6ft tables are £20 each. Come and join us, phone for availability.
Easily accessible by public transport with pay and display car park at the rear of the building and plenty of on street parking close by. For details contact Barbara. Tel. 01492 518597 mob. 07581 397721
Llandudno Town Hall, Lloyd Street, Llandudno, Conwy, LL30 2UP
Tel: 01492 518597
---
Royal Wedding Afternoon Tea
Saturday -3pm – Glan Conwy – Church House
Along with entertainment from the Pantomime Children
Tickets – Adults £5 Children £3
All profits to go to Cora's Climb
https://www.facebook.com/CorasClimb/?hc_ref=ARQLejkszj3_9NKL6za9i3NMqU7YRU66wIYLrr0t3WkJE3eNg5f4dZ8swY6-vDUbipk

 Fun Dog Show
Sunday – 11 – 4- Bryn-Y-Maen
Fun Dog Classes, tombola, raffle, stalls, BBQ etc.
Entrance fee – £2 per car
RSPCA – Bryn-y-Maen Animal Centre – LL28 5EJ
For more info got to : brynymaen@rspca.org.uk or call 03001230745
---
Camp Penrhyn – The Plant Hunters
Free range fun for all ages with the gang from Wild Elements – nature trails, navigational skills, marshmallow toasting and archery (£1.50) Just a few of the activities that will be on offer to keep all intrepid explorers busy!
Free event, £1.50 for archery. Normal admission prices apply
---
Saturday – 8pm – Llandudno
I originally intended to call the show, "I'll Millennial You in a Minute", but my promoter considered the title, "off-puttingly baffling". That's my own chainsaw in the photo, by the way.
Is life that bad or have we good reason to complain about it? Are we filled with righteous anger at a world gone wrong or are we all just a bunch of whiny little brats? In short, are we spoiled? Come and watch as Byrne takes this question, turns it upside down and shakes it until the funny falls out. Go on, spoil yourself.
'Comedy's Holy Grail. Go See!'
Sunday Times
Performances info
•Age Guidance: 16+
•Latecomers will not be admitted
---
Snowdon Trek – Wales Air Ambulance
Pen-y-Pass, Llanberis, Gwynedd, LL554NY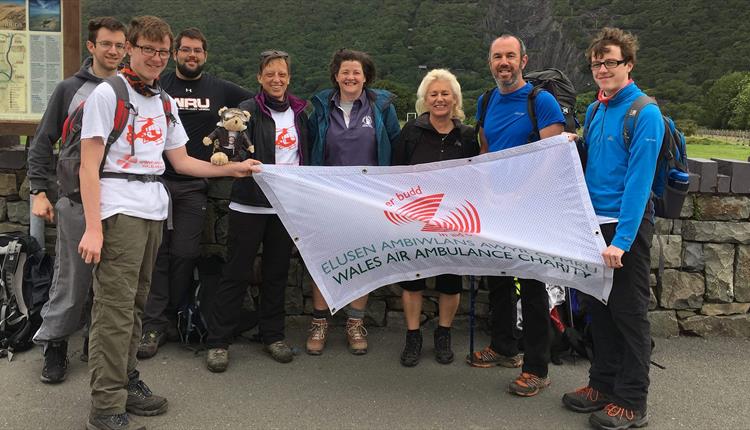 WE ARE TREKKING TO THE HIGHEST POINT IN WALES TO HELP WALES AIR AMBULANCE SAVE LIVES.
THE TREK
Take the Miners Path to the summit of the highest mountain in Wales, stand at 1085 metres and enjoy the amazing views across Snowdonia. Fingers crossed for a clear day to see across Cwm Brwynoc, Llanberis and over the Menai Straits to Anglesey.
Visit our website to find out more information and see our other Wales Air Ambulance fundraising events.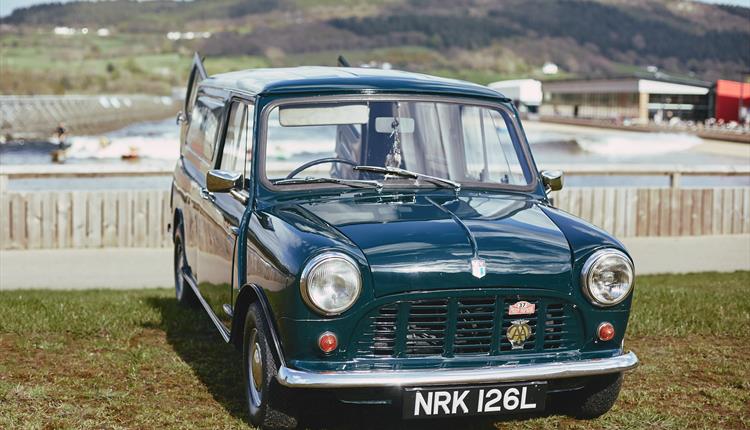 Sunday – Noon – Dolgarrog – Surf Snowdonia
A mini adventure awaits!
FREE one day classic mini meet bringing together 120+ classic mini enthusiasts from around the UK!
Join us for our first mini meet at Surf Snowdonia, the world-first inland surf lagoon from 12noon on Sunday 20th May 2018. Located in the heart of the beautiful Conwy Valley you're guaranteed a stunning drive to get to us!
@minisinthemountains
---
Tomas Hanus
Sunday – 4pm – Llandudno – Venue Cymru
Prokofiev's colourful ballet score, Cinderella, is chock full of witty, vibrant music, by turns spiky and lushly romantic. The Quarrel of the Ugly Sisters, Cinderella's Waltz and the memorable Midnight Hour are among the Suite's highlights. No less richly melodic is Grieg's evergreen Piano Concerto, renowned for its explosive opening bars and its tender lyricism. By contrast, Beethoven's Seventh Symphony hurtles along with boundless energy.
Conductor: Tomáš Hanus
Soloist: Peter Donohoe (Piano)
---
 Cars & Coffee on the Prom
Sunday – 9 – 2 – Rhos-On-Sea-
Held on the third Sunday of the month throughout the
summer from April to September for owners and lovers of classic and vintage cars. Attendance is
free, so come along and meet like-minded enthusiasts to share stories, boast or covet. Everyone
is welcome. On the Promenade, Rhos-on-Sea from 9am to 2pm. Phone: 07962 421417. Web:
www.facebook.com/groups/272196209803253/
---
Snowdonia Half Marathon
20 May -10AM – Llanrwst
A scenic Half Marathon set in the beautiful Snowdonia  National Park, starting and finishing in the village of Llanrwst. The park is a region of haunting
beauty and grandeur, of wild, rocky mountains, hidden valleys, cascading rivers, still glacial lakes
and deep forests. Starting from Gwydir Park, Llanrwst at 10am. Phone: 07590 690041. Web:
www.runwales.com/events/snowdonia-half-marathon/
---

Gary Barlow
Monday and Tuesday – Llandudno – Venue Cymru
Gary Barlow has announced that he will embark on a solo tour of the UK kicking off in April 2018, playing 34 dates in 24 intimate venues.
The tour will see Gary play intimate venues across the UK and Ireland including some never visited before. The last time Gary played a string of venues this size, demand was so high he could have sold certain venues out six times over!
'I had such a lot of fun back in 2013 when I played those smaller venues because you're so much closer to the fans.The audience always seem to love the intimacy of it all too. I'm also really looking forward to playing in a couple of cities I've never played before as well as getting a chance to meet the fans there.'
Gary Barlow
Gary last toured as a solo artist in 2014 to acclaim from fans and critics alike, playing some of the biggest venues he had ever played as a solo artist including The O2 London, Birmingham LG Arena, Glasgow The SSE Hydro and Manchester Arena.
Gary Barlow is a British singer-songwriter and record producer who found worldwide fame as a member of British pop group Take That. Since forming in 1989 Take That have won eight BRIT awards, sold over 45 million records and over eight million concert tickets.
Gary is one of Britain's most successful songwriters, having written 14 Number One singles as well as being a six-time recipient of an Ivor Novello Award. Aside from his achievements with Take That, he has also co-written and produced music for other renowned artists including Dame Shirley Bassey, Sir Elton John and Robbie Williams. Gary's last solo record 'Since I Saw You Last' sold more than 600,000 copies and was the ninth biggest selling album that year. In more recent years, Gary has also turned his attention to the world of theatre, composing the score for the hugely successful production 'Finding Neverland', working alongside screenwriter Tim Firth to write the music and lyrics for musical 'The Girls' and also working alongside his Take That band mates to produce 'The Band' a record breaking musical featuring the music of Take That.
Venue Cymru, Llandudno Promenade, Llandudno, Conwy, LL30 1BB
For more info go to :http://www.venuecymru.co.uk
---
 
Early Bird Walk at Bodnant
Sunday – 8am – 10am  -Tal-Y-Cafn
Catch our early birds
at work on a guided walk with a local expert. From 8am to 10am.
Tickets £10. Booking essential.
 Bodnant Garden – Tal-y-Cafn, Colwyn Bay. Phone: 01492 650460.
Web: www.nationaltrust.org.uk/bodnant-garden. Normal entry
charges apply
---
MOSTYN – 12 Vaughan Street, Llandudno. Open Tuesday to Sunday,
10.30am to 4pm. Phone: 01492 879201. Web: www.mostyn.org – Until
3 June – Estella Scholes – Circles, Stones, and Fragments from the Shore
– Our series of solo exhibitions celebrating contemporary printmaking continues in Gallery 6 with Estella
Scholes. In-sight 14 – A new collection of work by artists from North Wales in MOSTYN Gallery Cafe
at MOSTYN, in partnership with Helfa Gelf Art Trail. Nigel Morris – Sophie Scharer – Kiran Sharma –
Swondonkey. The exhibition is curated by Mark Hughes, MOSTYN. Until 1 July – Shezad Dawood
– Leviathan – Leviathan is an episodic narrative around notions of borders, mental health and marine
welfare – issues of foremost concern and which resonate profoundly with coastal locations and present
day life. Mike Perry – Land / Sea – Mike Perry's work engages with significant and pressing environmental
issues, in particular the tension between human activity and interventions in the natural environment, and
the fragility of the planet's ecosystems.
---
Surf Life Saving Association Weekend
Saturday and Sunday – Penmaenmawr
---

Make Your Own Silver Rings
Saturday – 10AM – Llandudno Junction- Providero
Create solid sterling silver rings from scratch using traditional silversmithing techniques.
Your friendly tutors, Britt and Andrew will be on hand at all times during the workshop to closely guide you and the other participants through each step, ensuring each person makes their own ring(s) entirely by themselves.
You will have a choice of making two stacking rings with a semi-precious gemstone or one chunky, textured ring.
The steps include sizing your finger, measuring the amount of silver needed, filing the metal, shaping the ring, using a blowtorch, adding texture, setting a stone the traditional way without glue and many other skills. Silver and tool use is included in the price, your ring(s) will go with you ready to wear at the end of the class!
The silver used in the class is 925 Solid Sterling Silver which has been used for hundreds of years. This workshop typically lasts around 3 hours in total and is aimed at complete beginners but all are welcome. This is a very hands-on class.
If you normally wear glasses for reading, we recommend you bring these. Please wear old clothes and closed-toed shoes. Long hair must also be tied back. We currently have no strict age limit on classes but please email us before booking a space for anyone under the age of 16 just to confirm this with us.
https://www.facebook.com/events/343831906128419/